Instructions for Tri-Fold Brochure



Request the brochure
To request a brochure open the
Contact tab. Fill in each field completely and submit it. You can also email us at support@traumarecoveryinternational.com.
Design the brochure
You'll be able to design your own brochure in any language
(see section below)
.
We'll send you an email with the English version of the brochure on 6 panel templates, and the .jpg files show below for the brochure logo and photos. These will be sent as attachments to the email. You can also copy the .jpg files below and paste them into the brochure panel documents. We'll also email you two Adobe .pdf files for the brochure inside and brochure outside so you can view our layout.
Translate the brochure
Go to 'Brochure
/
Translation' in this section for instructions on how to translate the brochure.
'Google Translate'
is a free program that will let you translate into one of 58 languages.
You can find
'Google Translate'
at
http://translate.google.com/?sl=en&tl=fr&hl=en&text=de%E2%80%99enfer+pur&source=dictionary#en|fr|d%27enfer%20pour.
Once you've translated and designed your brochure please email us a copy as an attachment for our library of translated brochures. If you see an error in a translation, please email us the corrected brochure.
The brochure tri
–
fold design is illustrated below. When folding the paper as a tri–fold brochure, there are 6 panels, counting both sides of the paper, with two parallel folds in a spiral fold configuration.
It's important to work closely with your graphic designer or printer to ensure that the formatting is correct.
To allow the panels to nest inside each other properly, the first folded panel is about 1/8" narrower than the other panels. This difference in size needs to be taken into account when composing text and images for the brochure. Otherwise, margins will appear uneven or text and images may fall into the folds. By following these guidelines, when the brochure is printed (or photocopied) and folded it will come together correctly.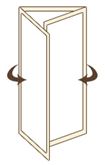 If you are printing the brochures from a printer, it is printed on both sides of the same paper. See the paragraph below for formatting instructions so make sure the two–sided brochure folds correctly. Test to make sure you are loading the paper correctly for the second printed side. Once copied, fold several brochures until you can accurately determine where the crease in the paper is made for the inside and outside folds. When folding by hand fold the brochure one time gently, and then use a ruler or similar straight edge to carefully crease the edges cleanly.


xxxx